The Indian logistics industry has a number of big players in the organized market such as Aegis Logistics, Sical Logistics and a few major government entities such as Container Corporation of India, Shipping Corporation of India among others. In terms of revenue in FY'2014, Container Corporation of India is the market leader in the logistics industry in India followed by Aegis Logistics and All Cargo Logistics.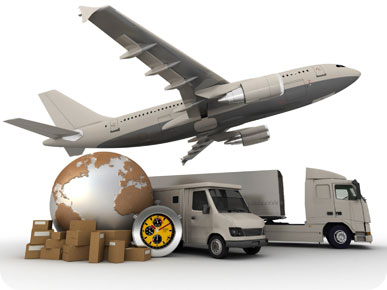 Warehousing is the second biggest segment in the services mix of India logistics market. The warehousing sector in India is seriously underdeveloped with millions of dollars worth crops damaging due to lack of proper warehousing facility. Freight forwarding is the third largest segment in the services mix of Indian logistics. As the amount of goods to be transported from the manufacturer to the final consumer is growing; the need for freight forwarding has increased significantly over the years. Value added services such as packing, sorting and others account for a minute share.
Express logistics industry in India has the unique distinction of being one of the few segments to have a majority of organized players in the market based on the contribution to revenue. There are currently about 2,000-2,500 express logistics players in the country out of which 1,000 are active players.
Third-party logistics (3PL) outsourcing is rapidly gaining importance as more and more corporations across the world are unable to manage their complex supply chains and hence are outsourcing logistics activities to the 3PL service providers. By outsourcing logistics activities to the 3PL service providers, corporations are able to solely concentrate on their core business operations resulting in cost-efficiency and improved delivery performance and customer satisfaction.
Fourth Party Logistics in India represents the next stage of development in logistics service providers. 4PL is a non-asset based logistics operator which has chosen to become an outsourcing specialist that assess the entire supply chain and contract those best able to provide the required services, all in order to reduce the customer's investment in inventory.
The Indian e-commerce industry has seen remarkable growth in the recent years owing to deep internet penetration in the country and inflow of large multinationals in the industry. The e-commerce industry rests on the shoulders of logistics support which provide arms and legs to the entire e-commerce infrastructure in India and help extend its reach in the country. The logistics support for the e-commerce industry is highly essential and determines the extensibility of the e-commerce companies in the country.
For more information on the market research report please refer to the below mentioned link:
Source: https://www.kenresearch.com/automotive-transportation/logistics-industry/india-logistics-warehousing-market-research-report/648-100.html
Contact:
Ken Research
Ankur Gupta, Head Marketing & Communications
[email protected]
+91-9015378249